To share this news on Facebook click here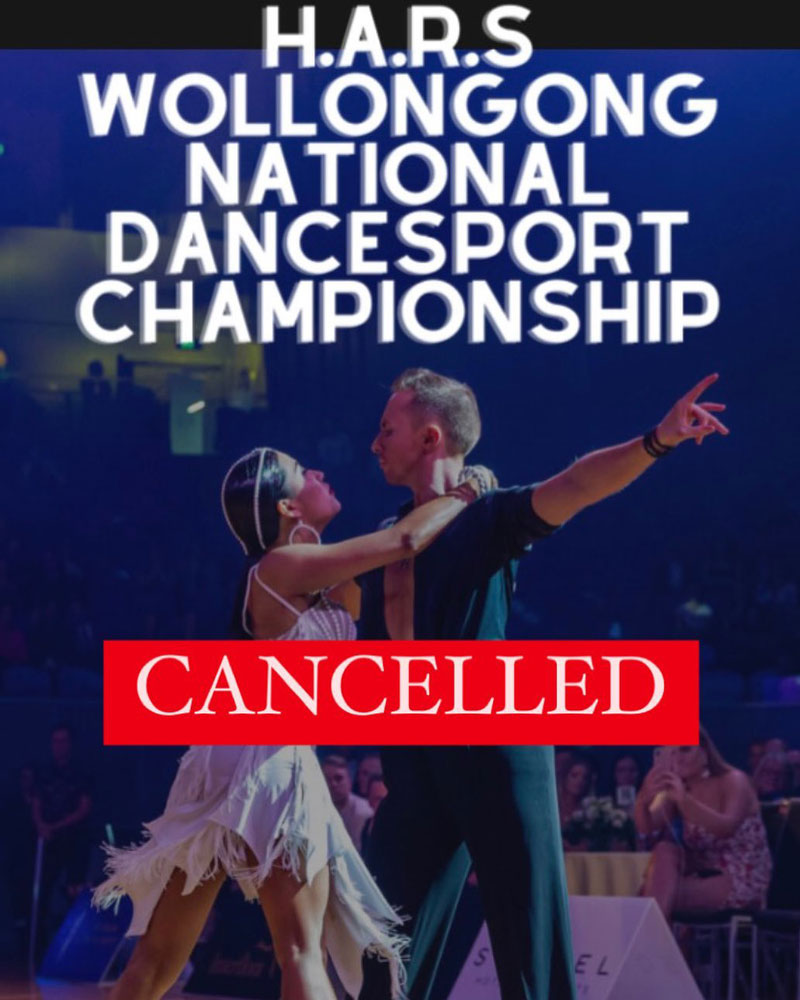 2021 HARS Wollongong - CANCELLED
New update unnounced 28/7/2021...
It is with great sadness that DME must announce the cancellation of the 2021 WNDC in September.
The ongoing lockdown in NSW since the end of June, the ensuing restrictions on density, sporting events and social distancing, not to mention interstate travel, means there is no possible way for the event to run.
Refunds: We will be refunding all General Admission and Reserved Seating ticket holders. If you have purchased your tickets Online via Stripe refunds will be made directly to the credit card account used minus the handling fee. If you paid by direct deposit, we will require your account details please send these to dancemoveengage@gmail.com.
Thank you for the hard work and support of our organising team, Scrutineers, Music Director, Production company, Venue and supporting studios in preparation for this event and the challenges that ensued.
We hope you will keep dancing and support us next year for this exciting weekend of Ballroom dancing on 25th & 26th June 2022, we thank you for your understanding and we wish you all the very best.
Kind regards,
Neale Byrnes
Posted on 23/6/2021
!!SOME EXCITING NEWS!! Dance Move Engage is pleased to announce that we have secured new dates for the 2021 Wollongong National Championship.
The event will now take place on the 4th and 5th of September.
Please check your entry is still in the entry system by visiting the entry website [https://dancesport.org.au/entry/start.php?comp=370].
If you are unsure or have cancelled your entry, and now wish to attend, please feel free to send us a message or email us.
Previous update 23 June 2021...
As you may be aware, at 11am the Premier announced a range of changes in the guidelines associated with COVID 19 across Sydney. These include:
Mask's compulsory in all indoor non-residential settings
No singing by audiences at indoor shows
No dancing at indoor hospitality venues
No standing at hospitality venues
1 person per 4 square metre rule
The Premier also clearly stated that as of 4pm today, to avoid all non-essential gatherings.
The wellbeing of our DanceSport community is always at the forefront of our practice and decision making, whilst adhering to current guidelines of NSW Health. As a result of these very recently updated guidelines, it is with great disappointment that the Wollongong National DanceSport Championship will not be occurring on 26 & 27 June 2021.
We would like to recognise the considerable effort put into this production by the DME Organising Committee, our scrutineer, music, and production team.
I will update you further on whether the event can proceed at a later date in 2021.
I thank you for your continual support and understanding.
Neale Byrnes
President, Dance Move Engage