To share this news on Facebook click here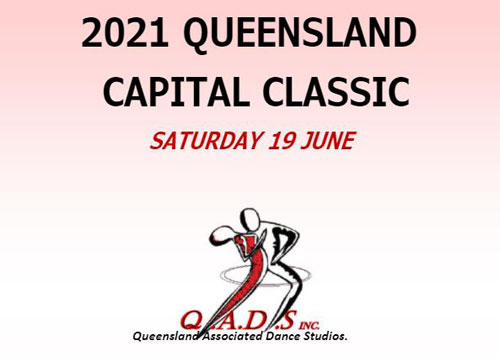 2021 QADS Queensland Capital Classic - New Events Added
NEW EVENTS ADDED
QADS would like to advise they have added extra events and changed the restrictions on some events as requested.
Added Events:
Pro/Am Juvenile Open Standard, Latin & New Vogue
Pro/Am Junior Open Standard, Latin & New Vogue
Fees $20 each
Changed events:
Coach/Student we are allowing M2 to dance in M1 and M3 to dance in Masters 2 across all styles.
Entries now closing... 11.59pm Monday 7 June 2021
_____________________
The Queensland Associated Dance Studios Inc. (QADS) are proud to present the 2021 Queensland Capital Classic on Saturday 19 June at the Somerset Sports Centre, Ormiston College.
After having to cancel both the Queensland Capital Classic and the Queensland DanceSport Titles at the Greek Club last year due to Covid-19, the QADS are looking forward to welcoming everyone back to their competitions.
This year the QADS have introduced new Social events for those dancers without a regular partner and are wishing to have a chance to compete on the floor. Only the competitor will be judged and they are not to be partnered by qualified Coaches. A Day Pass is required and can be purchased via the DSA Entry System. Once you have paid for your Day Pass, the Social events can be accessed via the SOCIAL button in the Entry System.
The program will be run in 3 sessions as follows.
Session 1 - Masters
Session 2 - Under 16
Session 3 - Under 21 & Adult
Doors open 8.30am, Session 1 start 9.30am. Sessions 2 & 3 starting times will depend on entries.
Refreshments will be available throughout the day.
Please remember to pay your Entry Fees online. Note that your Entry Fee includes door admission.
Spectator Tickets can be purchased here