To share this news on Facebook click here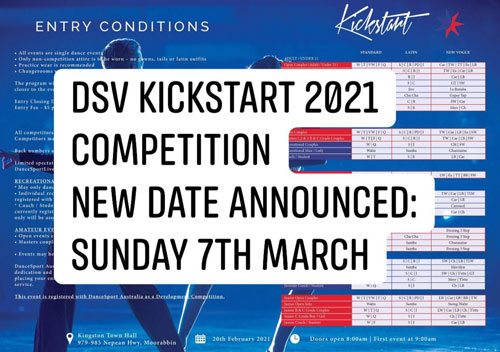 2021 DSV Kickstart Competition - Change of Date
Due to last week's 5 day lockdown and dancers being unable to take lessons and train, as well as government restrictions still surrounding capacity numbers at public events, DanceSport Victoria have decided to postpone the Kickstart 2021 Competition scheduled to take place this Saturday.
New Date - Sunday 7th March 2021
The new date for the event will be Sunday 7th March 2021. All other details will remain as planned including the venue and syllabus.
An email will be sent to all RTFs and competitors currently entered in the event with more information!!
In the mean time we have re-opened the entry system and this will close again on Wednesday 24th February 2021.
DanceSport Victoria would like to thank you all for your understanding and support during this time and we can't wait to deliver what promises to be a fantastic event in your competition calender.