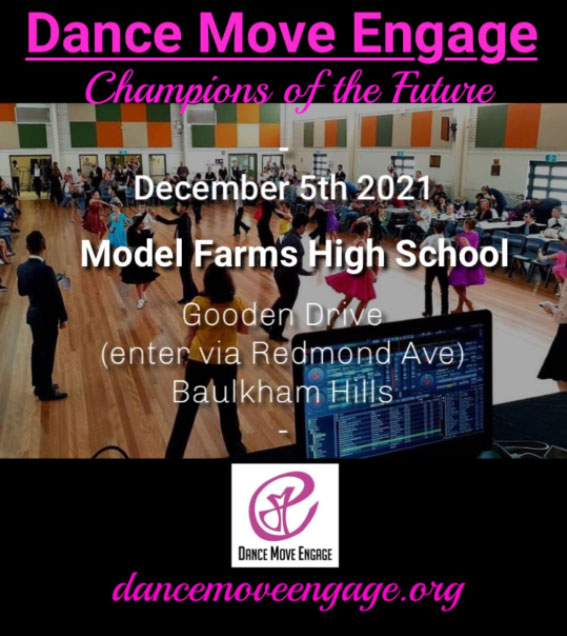 2021 DME Champions of the Future - December
Dear DME Members & Supporters,
The DME Champions of the Future event on 5th December 2021 is set to go ahead at Model Farms High School Hall, Gooden Drive (enter via Redmond Ave), Baulkham Hills.
This event has been modified to conform to Covid Safe restrictions expected by this date.
As a result, we ask that competitors arrive already dressed in Practice Dancewear, Juvenile Competitive Attire or Street Attire ONLY to prevent the necessity of Changerooms.
Enter at https://dancesport.org.au/entry/admin.php. Entries will close on 21st November. The Proposed Run Order link will be posted one week prior to the event.
Doors will open at 9am and we will program 4 sessions each with Presentations to ensure that competitors and spectators do not exceed venue capacity. The sessions will likely be separated as follows (although this could change depending on entries):
Session 1 - All Unregistered events & All Under 16 NV Solo & Couple events
Session 2 – All Under 16 Solo Std & Lat events
Sessions 3 – All remaining Under 16 Couple events, U16 Coach Student & ProAm events
Sessions 4 – All U21, Adult, Masters Rec/Amateur/Coach Student/ProAm events
The Admission fee for Competitors and Spectators will be payable on the day at the door. We will have Eftpos facilities available for Covid-Safety and a Covid Marshall to ensure you have checked in using the Service NSW App. Please do not attend if you are feeling unwell. The health and safety of our dancers and their families is of utmost importance to us.
Competitors will need to collect their back numbers at the Numbers Table and look up their allocated competitor back number on the DSA website to ensure a speedy process – this will be different to their CID.
Whilst we typically require a deposit for numbers that is refunded upon return, a deposit is NOT required this time in order to comply with our Covid Safe Plan. Numbers MUST still be returned upon completion of events.
The venue capacity is limited due to Covid Safety and so we would ask that you attend for the events you/your child is participating in and then depart to free up space for others.
The Double Ristretto Coffee food truck will be located outside the venue entry for coffees/teas, cold drinks and healthy refreshments/meals so we hope that you all take advantage of these facilities and the Winston Hills Shopping Centre is a short walk from the venue.
We would also ask that while in attendance, everyone social distances when possible and follows NSW Covid Safe protocols at all times.
Professionals interested in volunteering their adjudicating services should email dancemoveengage@gmail.com and we will aim to allocate a minimum of 2 sessions accordingly.
We look forward to seeing you all on the 5th December!
Kind Regards,
Neale ByrnesPresident, Dance Move Engage
0412.683.553
Nicole ByrnesTreasurer, Dance Move Engage
0423.803.243