To share this news on Facebook click here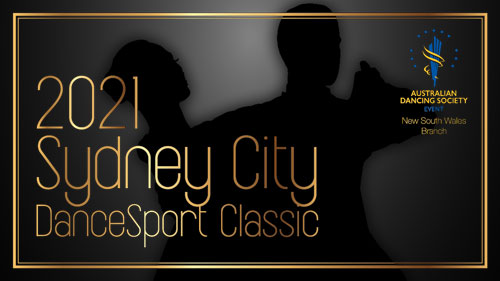 2021 ADS Sydney City Classic
The New South Wales branch of the Australian Dancing Society present their second competition of the year, the 2021 Sydney City DanceSport Classic.
This competition will be held at the popular Marrickville Town Hall on Sunday 16th May 2021.
Doors open 9am, commencing at 10am
10am - Juvenile/Junior & Youth
1pm - Adult, Masters, Coach/Student & Pro/Am events
Times are approximate and could vary depending on entries.
Competitor Entry & Fees
Please note Competitor entry fees include admission.
Fees are payable online via the DSA Entry / Ticket System. Payment confirms your entry.
Amateur Open / Pro/Am - $30 per event
Amateur Graded - $15 per event
Under 16 Division - $5 per event
Coach/Student - $15 per event
Recreational Division - $10 per event
Here is a direct link to the DSA Entry / Ticket system... Enter here
Spectator Admission Tickets
Adult - $25
Under 16 - $15
To purchase your tickets please pay online via the DSA Ticket System... SPECTATOR TICKETS
Once you have paid and payment is processed (this may take 24 hours), tickets can be downloaded via the blue DOWNLOAD link. Either print or download to your device.
For all competition enquiries please contact the Organiser... Melinda Hayes
Ph: 0402806086
Email: australiandancingsocietynsw@gmail.com