To share this news on Facebook click here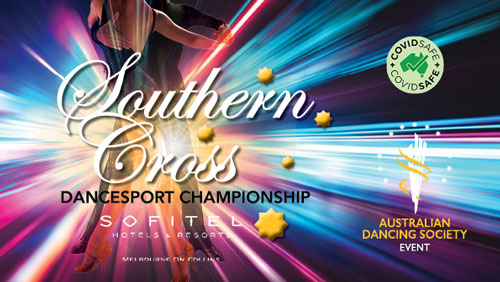 2021 ADS Southern Cross DanceSport Championship
The Directors of the Australian Dancing Society together with Sofitel Melbourne on Collins are proud to present the 2021 Southern Cross DanceSport Championship.
This prestigious Championship will be held on Sunday 25 July 2021 in the beautiful Grand Ballroom at Sofitel Melbourne on Collins.
This year will again feature the presentation of the following Perpetual trophies and prize money for the following events.
Stella Chan Memorial Trophy
Prize money kindly sponsored by the Chan Family
1st = $1000, 2nd = $700, 3rd = $400
Bonnie Tsui Perpetual Trophy
Prize money kindly sponsored by the Bonnie Tsui
1st = $500, 2nd = $300, 3rd = $200
Starting Times
Doors open 7.30am - First event 8.00am
Place your entry via the DSA Entry System
Purchase your tickets via the DSA Ticket System
Trade Stands & Advertising
Please contact: Susan Porter - 0409 002 563
For all enquiries please contact...
Adam Blakey - adamblakey@me.com - 0418 216 533
Susan Porter - wosp1@bigpond.com - 0409 002 563