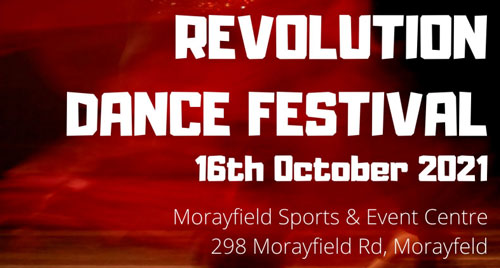 2021 ADS Revolution Dance Festival
The ADS Qld Branch are proud to once again present the Revolution Dance Festival on Saturday 16 October. This year the competition will be held at the Morayfield Sports & Events Centre.
The following times and sessions have been proposed. Please note that start times for all sessions will be confirmed closer to the event after entries collated and proposed schedules prepared.
Doors Open: 8.30am
Proposed start time: 9.30am
Session 1 – Masters
Session 2 – Under 16
Session 3 – Under 21 & Adult
Entries & Competitors Entry Fees
All entries via the DSA Entry System
Competitor's competition entry fees are due at time of entry and includes door admission. Payments can be made via the DSA Entry System.
Entries and payments close 5th October 2021.
Late entries will incur a fee of $10
Payment must be made at time of entry or will not be included.
Spectator Admission Tickets
Spectator door fees are payable online via the DSA Ticket System.
$20 for 1 Session
$35 for all Sessions
$5 for Children under 16
ADS Members Free (Register held at front door)
Other Information
All enquiries regarding the competition to the Organisers:
Jody Rollason – 0412 433 233 or jody@rhythmdanceattitude.com.au
Simon Salm – 0408 734 419