To share this news on Facebook click here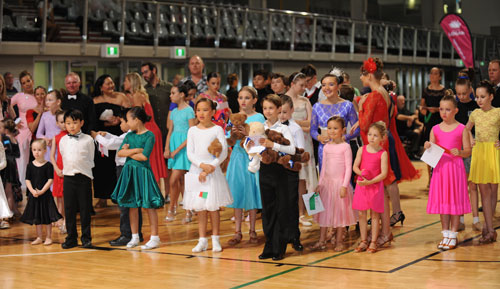 It's A Wrap - ADS Qld Crystal Classic
It is with great pleasure to say that the Crystal Classic ADS QLD Branch was a huge success in every way.
Over 243 Competitors entries were received throughout Qld ,NSW & Victoria.
There were over 300 spectators, 19 Adjudicators, 2 Scrutineers & our wonderful Comperes, Laurie & Dianne Peterson all did a fabulous job as always, making our day a complete success running on time from start to finish.
The day started at doors opening at 8.30 am with the first event at 9.30 am. Event finished at 9.30 pm ...
We ran with three sessions.
Session 1 Masters, Pro students, Recreational, Coach Student
Session 2 Juvenile, Juniors, Pro students, Coach Student
Session 3 Adult , Professional, Recreational, Pro Amateur
Being the very first Competition for Qld this was a tremendous result.
Medals were awarded for First , Second & Third placing in all the Amateur events ; Gold, Silver, Bronze.
Recreational Certificates given with small sashes with ADS Crystal Classic logo ..First place Blue, Second Red & Third placing Green. This was a nice touch.
Juvenile Individuals & Couples all received for an extra special touch; First place Teddy Bears with Blue Crystal Classic Sash across his chest, this was a great response the children were ecstatic by the idea to dance to win their very first teddy bear, the smiles were throughout the room with even the adults wanting to take home a bear lol. Second place Certificate with Red Ribbon & Third Certificate with Green Ribbon. The winners were most definitely grinners.
The Event was sponsored by #Logan City Council & held at the Logan Metro Centre 357 Browns plains Road Logan . The Metro Community Centre was Spacious, Air-conditioned, tiered seating & over 22 table seating of 7 for Covid restrictions. The atmosphere was perfect allowing for plenty of space between tables & adding to a prestigious day . Fabulous comments & compliments were received through the day re staging layout & Professional Presentation of first view of the dance floor etc.

The Organisers Lin McFarlane, Ross Heidke & the ADS QLD Committee, would truly like to thank all who attended on the day. Without you all this could never have been possible. Thankyou for attending and Happy Dancing!