To share this news on Facebook click here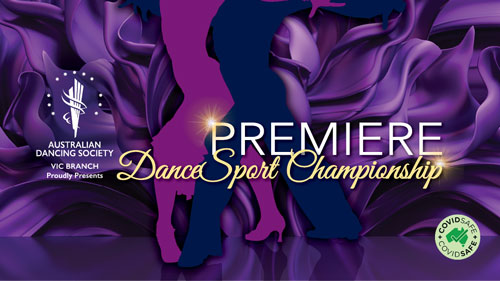 2021 ADS Premiere DanceSport Championship
Don't forget to save the date for the second Victorian ADS Championship event - The Premiere DanceSport Championship, to be held Saturday 11th September 2021 and once again at the Moonee Valley Racing Club.
The ADS Vic Branch are looking forward to another exciting event in Melbourne so please make sure to show your interest in the Facebook event page and look out for details and literature in your studio soon.
This year the event will be held in 2 sessions...
Morning Session - Under 16 / Recreational & Coach/Student events.
Afternoon/Evening Session - Amatuer Under 21, Adult & Masters graded & Open events, Pro/Am and Professional events.
Great sized dance floor, generous change rooms and practice area, table seating, free car parking, canteen & bar facilities and of course Glamour Dance will be there once again for all your dancing needs!
Entries
Please enter via the DSA Entry System
Entries close: 20th August 2021
Coach/Student and Pro/am entry fees payable via the DSA Entry System
Enquiries & Tickets
For all other information please contact the organisers...
Email: premierechampionship.ADS @gmail.com
Kym Smith 0425 843 171
Eamon McGrath 0412 867 523