To share this news on Facebook click here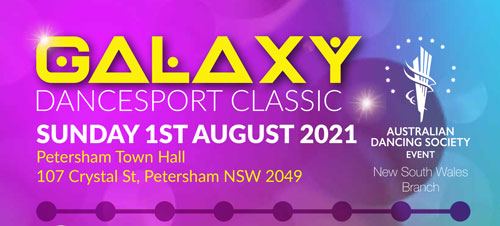 2021 ADS Galaxy DanceSport Classic
ADS NSW proudly preset their next competition of the year, the Galaxy DanceSport Classic to be held on Sunday 1st August, 2021 at the Petersham Town Hall.
This competition has introduced Synchro and Entertainment Performance events, plus the regular events for individuals and couples in the Under 16, Amateur and Recreational Divisions including Pro/Am and Coach/Student events.
Synchro & Entertainment Performance Events
New events have been introduced for Entertainment Performance Groups, Synchro Duos and Synchro Teams. Further information for the Synchro events can be found via the DSA website. Here is the Synchro Link.
Entries
All entries via the DSA Entry System.
Please note Entry Fees must also be paid via the system to confirm your entry.
The Competitor Entry Fee includes your admission into the competition.
Spectator Tickets
Spectator tickets can be purchased via the DSA Ticket System.
General Information
For all other information please contact the Organiser.
Melinda Hayes haysie.5@optusnet.com.au