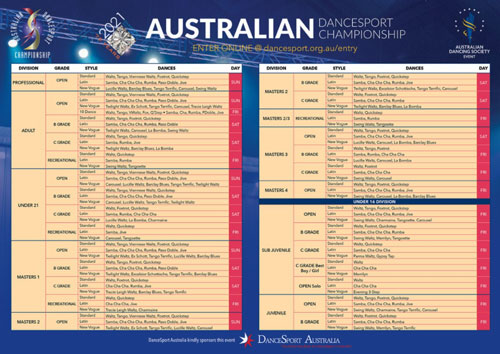 2021 ADS Australian DanceSport Championship
Media Release - Australian Dancing Society...
We are very excited to announce that the AUSTRALIAN DANCESPORT CHAMPIONSHIP will be taking place in 2021!
Friday 10th / Saturday 11th & Sunday 12th December 2021
It will be no surprise that the ADS has had no choice but to make a change to our venue for this year only, due to the COVID-19 pandemic and the many challenges that it has presented us, particularly for this flagship event!
We are, unfortunately, not yet in a position to publicise the venue details but assure you we will do so as soon as details are finalised with the Victorian State Government.
What we can tell you is that it will be action packed program over three days, featuring evening finals on both Friday and Saturday, and culminating on the Sunday evening with the grand finals of all major Professional, Open Amateur events where we will crown the new "Australian Champions". We hope you will get on board for what will be a somewhat different, yet very exciting, Australian Dancesport Championship!
We thank you for your patience in the lateness of these details but we are sure you will understand that we have on this occasion had to cover all our bases and to do our due diligence in order to protect our wonderful Society.
We look forward to welcoming everyone to this event in what will be a wonderful celebration of Dancesport like no other in Australia!
More information coming soon.