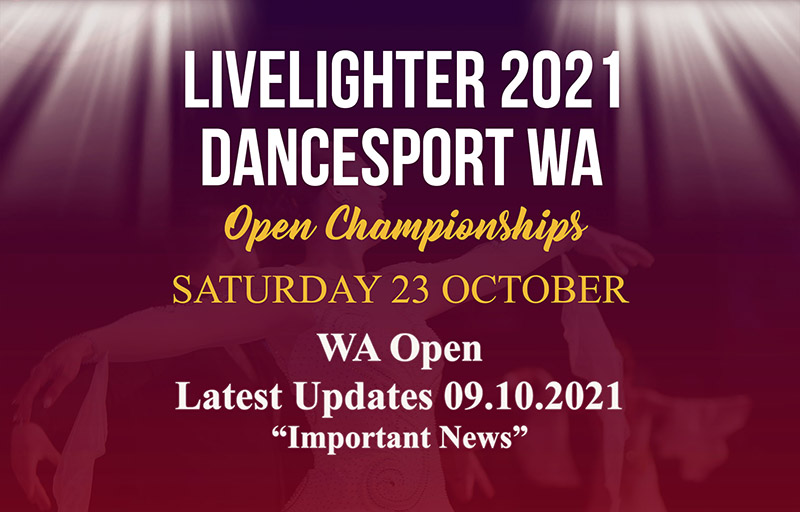 2021 LiveLighter DanceSport WA Open Prize Money, Sponsors, Conditions of Entry
October 10th 2021
Hi Everyone,
PRIZE MONEY. We are very proud to announce we have a prize pool of
$9,000 for Professional and Open Amateur events.
SPONSORS We sincerely thank our sponsors for their support and ask all of our dance fraternity to support them as they have supported us.
Zahira Crystals
Skinsense
Daele Fraser Dance Studio
Z Flowers
Tilenni and Stiles Associates
Humphreys Dance Studio
Beat Street Supplies
Mission Burgers
FLOORSIDE TABLES Please Note : Everyone who has purchased a table seat is entitled to seat at your designated table for both DAY and NIGHT events. If you do not have a table tickets DO NOT sit at a table at any time as you will be asked to move. Thank you.
HBF POLICIES
HBF STADIUM VENUE CONDITIONS OF ENTRY ( The below is very important and management will be enforcing their conditions ) Please tell your friends.
1. No glass at all to be taken into the venue. The only exceptions are small make up and perfume bottles and they must NOT be taken into the main auditorium.
2. Hair Spray Cans are acceptable but NOT to be taken into the main auditorium.
3. NO large bags into the main auditorium.
4. NO sharp and or dangerous object into the venue.
5. NO prams and strollers into the venue.
6. NO Selfie Sticks, camera tripods etc. into the venue
7. NO Outside catering and commercial items (EG Mc Donalds, Hungry Jacks) to be brought into the venue.
8. Anyone behaving inappropriately or under the influence of alcohol will be removed from the venue.
9. Children MUST be supervised at all time and remain in the auditorium at all times.
10. Hair and Make-Up must not be done in the Auditorium or Foyer.
11. HBF and Organising committee do not accept any responsibility for your personal belongings.
The organising committee request that everyone respects the HBF Conditions and to be assured that management will be enforcing their conditions.
13 days to go ! ! Don't forget to keep talking up the event. We need more "bums on seats" and there is lots and lots of tiered seats available.
So buy now from Ticketmaster or buy your tickets on the door on the 23rd.
Purchase of Tiered Ticket Seating at Ticketmaster
Car Parking is free …….. Get there early ….
Cha Cha Cha and a 1,2,3
DSWA Org Committee