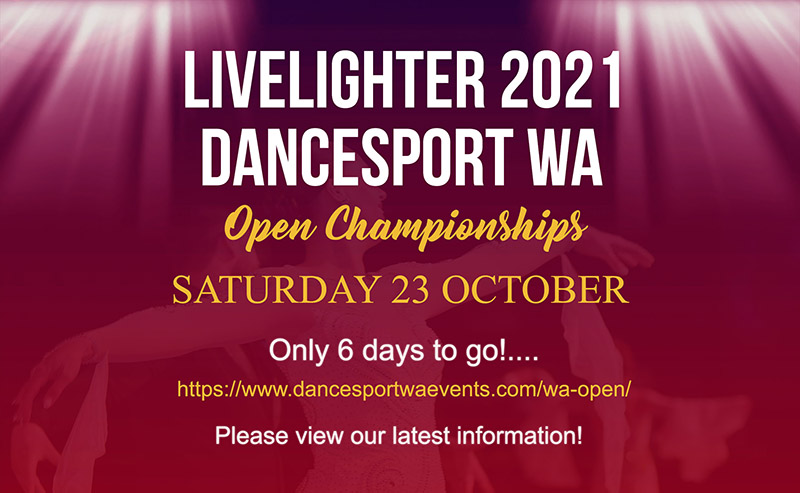 LiveLighter 2021 DanceSport WA Open Only 6 Days to go!
October 17th
Hi Everyone.

SIX DAYS TO GO ! ! Woooohooooo.
Don't forget doors open at 8am on the day for the competitions to start sharply at 9 am.
DON"T BE LATE ! All competitors must assemble in the Marshalling Area at least 4 events prior to your own event . Don't be late ….. if you don't marshall you may miss your event. Marshalling area is behind the stage.
Change Rooms Male and Female change rooms are adjacent to the main arena . Best entry is through marshalling area .
Juvenile and Junior Competitors We have a complaint from HBF that last year young children were running around the venue and creating problems., Parents are respectfully asked to keep the children in the auditorium and areas designated for our event.
PROGRAMMES Coloured souvenir programmes will be on sale for only $5 each. Please buy one…….. all competitors names , history of past winners, our fabulous sponsors, messages from committee are in this publication .
Floorside Tables. Don't forget ! ! These are for both day and night for the people who have purchased these tickets. DO NOT SIT at the tables if you do not have a table ticket as you will be asked to move.
TIERED SEATING There are lots of seats left in this area so contact Ticketmaster or just arrive on the day .
BUMS ON SEATS Tell all your family and friends and lets have a great event . The number of entries are fantastic and we are very pleased to welcome a team from Adelaide ……so lets get supportive of our fabulous dancers.
Please refer to the previous blogs for all details and HBF Policy.
Practice hard **** Slow, Slow, Quick, Quick, Slow
DSWA Organising Committee