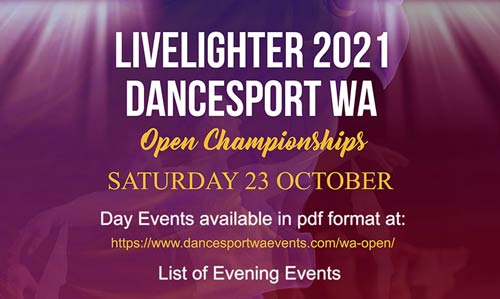 LiveLighter 2021 DanceSport WA Open Day Program and List of Evening Events
October 13th 2021
Hi Everyone,
The Day Program is now available on our website dancesportwaevents.com in pdf format for you to download. You can also view a list of the Evening Events.
Day Program in PDF Format List of Evening Events in PDF Format
Also please be reminded that all competitors must be in the marshalling area behind the stage at least 4 events prior to your own event. This is very important, as if you do not marshall you may miss your event and we cannot wait for competitors.
To competitors, please make sure you name tag all your belongings that you bring to the WA Open!
With less than 9 days to go we hope you are looking forward to the LiveLighter 2021 DanceSport WA Open Championships.
To purchase Tiered Ticket Seating at Tickemaster
Keep safe and well!
DSWA Org Committee