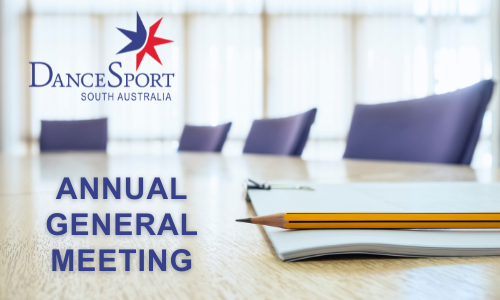 2021 DanceSport South Australia AGM Notice
Notice is given that the DanceSport South Australia 2021 Annual General Meeting will be held on:
Date: Sunday 26 September 2021
Time: 8:00pm
Venue: Via Zoom - please contact Executive Officer for link
Business of the Meeting:
Presentation of the Branch Treasurer's Report and Financial Statements;
Receive Reports presented by the State Branch Board;
Attend to any Motions on Notice;
Items as defined by the State Branch Board; and
General Business
Attendance and Voting Rights
Only persons whose names are recorded in the National Membership Register (DanceSport Australia Limited membership register for the purposes of the Corporations Act), are considered members of DanceSport Australia Limited.
Please note that changes (including the entry of names of members) to the National Membership Register will be closed from 1 August 2021 until 31 October 2021.
Proxies
A member of DanceSport Australia Limited who is entitled to attend and vote may appoint a person as the member's proxy to attend and vote for the member at the meeting. A proxy need not be a member of DanceSport Australia Limited. A form of proxy for the meeting can be obtained by emailing the General Secretary.
A proxy will not be treated as valid unless the proxy form (or copy thereof) is signed by the member and returned to the General Secretary by email at least forty-eight (48) hours before the time and date scheduled for the Annual General Meeting.
If you wish to attend the DSSA Annual General Meeting, please contact the Executive Officer via email - exec.sa@dancesport.org.au.