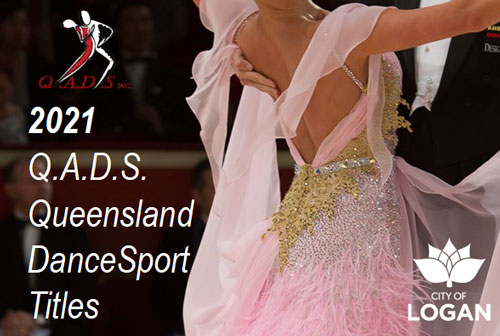 2021 QADS Queensland DanceSport Titles
The Queensland Associated Dance Studios Inc. (QADS) is pleased to invite you to an exciting new venue for the DanceSport Community, the Beenleigh Events Centre, Cnr Kent & Crete Streets, Beenleigh to host the Queensland DanceSport Titles.
You will enjoy a fantastic modern air-conditioned venue with a full parquetry dance floor. There is free underground car parking plus ample off-street parking as well. Kiosk facilities will be available on the day. It is conveniently located midway between Brisbane and the Gold Coast, just off the M1 in the centre of Beenleigh.

To celebrate our new location...
• QADS will have 2 Lucky Door Hampers – 1 drawn in each session. Collect your FREE hamper ticket on arrival at the door to be in the Draw
• Also continuing the tradition of supporting our amateurs and professionals we are increasing the lucky draw vouchers for dance lessons from 3 to 10 chances. All registered competitors at this competition will have their names included in the draw for a chance to win $100 worth of dance lessons from their studio professional.
Doors open 8.30am. First event 9.30am
Session 1 – Under 16 & all Coach/Student events. Synchro events will be at the end of this session.
Session 2 – U21, Adult, Masters & all Pro/Am events. Starting time will depend on entries.
Tickets
Please Note: This is a ticketed seat event.
A venue admission ticket is required.
On receipt of payment your Competitor & Spectator tickets will be emailed to you. Please send a request to Judy Wilson finance@qads.org.au if you wish to have family or studio groups together otherwise tickets will be grouped according to the email address submitted on purchase.
Please check ticket prices listed below.
Many thanks to the Logan City Council for their wonderful support.
For more information please check their website... https://www.visitlogan.com.au/