To share this news on Facebook click here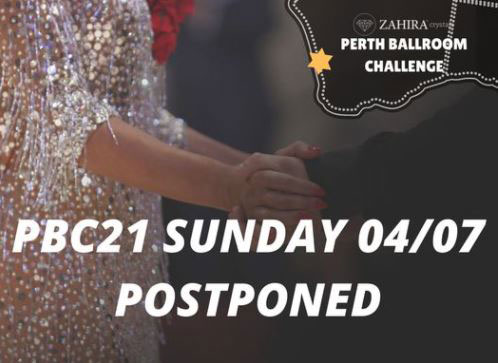 2021 Perth Ballroom Challenge - POSTPONED
Unfortunately due to the recently announced lockdown in Western Australia, the Zahira Crystals Perth Ballroom Challenge scheduled to be held on Sunday the 4th of July is POSTPONED.
We will do our best, and work as fast as possible, to determine if the event can be rescheduled later in the year. Please be aware though that this is contingent on being able to make suitable arrangements with the venue/s, as well as finding a date that suits the existing competition calendar.
We would like to take this opportunity to thank the PBC community of competitors, sponsors and officials who have already reached out to express their support and offer their help during this difficult time for the PBC.
As soon as we have a plan moving forward we will advise on arrangements for ticket money and sponsorships that have already been paid.
We would like to leave you all with the forward that we wrote for this weekends program:
"Recently our industry has been presented with challenges that it has never seen before and yet it remains strong - preserved through the love of movement and music that we all hold dear in our hearts. Our hope is when you take to the floor today that you hold onto the passion and the drive that has kept us all going in the past 18 months and use it to elevate your performances to new heights."
The challenges are not over and we might not be dancing this weekend but that does not change what we have said, hold onto that passion, that love and we will see you on the floor soon.

Happy Dancing,
Jack Johnson & Joanne de Jager
Organisers | Perth Ballroom Challenge
Email: perthballroomchallenge@gmail.com
Phone: +61 413866103