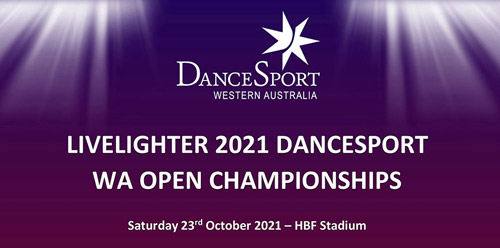 2021 WA Open Tickets
Hi Everyone,
Once again we are all set for a great WA Open. ******
The important details are on our National State Noticeboard for WA and our event website DanceSport WA Events as we have done in the past we will be "Blogging" latest news/ updates and reminders.
So please keep checking ! !
Floorside Tables
Due to the popularity of table bookings there will be a front row and second row of tables. Front row $130 per person. Second row $110 per person. This includes a "High Tea Platter" and the tables are for 10 guests.
Daele has already received requests for tables and as usual the tables will be allocated on a 1st come, 1st served basis.
Daele will phone you to confirm your booking and the full payment for 10 people must be paid within 7 seven days..
So everyone please start confirming your table members.
Contact for Table Bookings: Daele Fraser OAM call 0412 954 659 or daelefraser@iinet.net.au
Tiered Seating
Tickets are available from TICKETMASTER from MONDAY SEPTEMBER 6th.
These seats all offer unrestricted viewing and a good/inexpensive alternative to the tables.
ONLY 8 weeks to go ! ! >>>
So please tell your family and friends and lets make it the best
WA Open EVER
Keep safe everyone 123,123, 123,
WA Organising Committee