To share this news on Facebook click here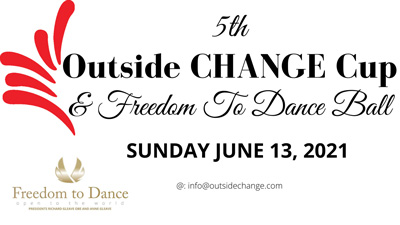 New date for 5th Outside Change Cup
A new date has been set for the 5th Outside Change Cup on the Sunday 13 June 2021.
Here is a message from the Organisers:
It is with a heavy heart that we have had to make the very tough decision to cancel this year's Outside Change Cup and Freedom To Dance Ball.
However, the good news is that we have booked a date for 2021 and the 5th Outside Change Cup will be held on Sunday June 13, 2021. Once again at the magnificent Plaza Ballroom.
If you have purchased tickets for 2020 and would like a refund, please send us an email to info@outsidechange.com or jason@outsidechange.com with your banking details and amount paid so we can cross reference otherwise, if we do not hear from you, we will put you in credit for 2021.
We would like to wish you and your families all the best in these very trying times and hope that each and every one of you are safe and well.
Thank you for your wonderful support and understanding during this time.
Take care
Jason & Brent