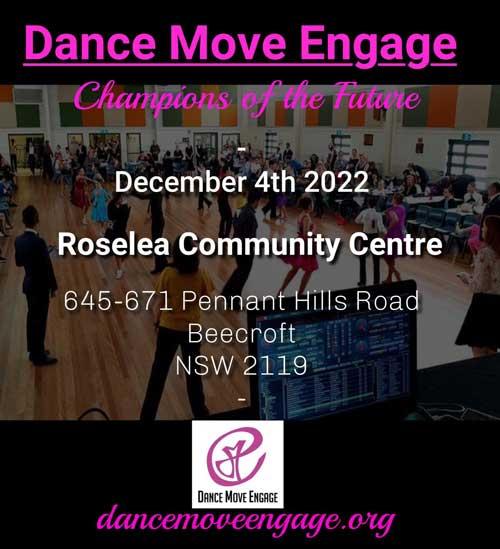 2022 DME Champions of the Future - December
Dear DME Members, Competitors & Supporters,
Entries are now open for the DME Champions of the Future event on Sunday 4th December 2022 at Roselea Community Centre, 645-671 Pennant Hills Rd, Beecroft.
The syllabus can be found on the Dance Move Engage website and the DSA website... DME Syllabus
This is a Covid Safe event and will therefore be Practice Dancewear only. We ask that competitors arrive already dressed in Practice Dancewear, Juvenile Competitive Attire or Street Attire ONLY to prevent the necessity of Changerooms and extra time required for costume changes. Competition dresses/suits are not required for this event.
For Duos and Teams, please keep costume changes to a minimum.
Entries via the DSA Entry System. Entries will close on 20th November. The Proposed Run Order link will be posted one week prior to the event.
Doors will open at approximately 8:40am for a 9am start and we will program 3 sessions each with Presentations to ensure that competitors and spectators do not exceed venue capacity. The sessions will likely be separated as follows (although this could change depending on entries and we will update you closer to the time):
Session 1 - All Under 16 Solo, Lead/Follow & Couple events, U16 Coach Student & ProAm events
Session 2 - U16 & Rec Synchro Duo & Teams, Rec U21/Ad/Mas Solo, Lead/Follow, Couple events, Am U21& Ad events
Sessions 3 – Amateur Masters events, CoachStudent Rec, Coach Student Am & ProAm events
The following non-refundable ENTRY FEES will apply for each event entered:
a) All Under 16 Division - $5 per event
b) Recreational Division & Coach/Rec & Coach/Student - $10 per event
c) Amateur Division Graded - $15 per event
d) Amateur Open & Pro/Am - $15 per event
In order to stay true to our branding of affordability at our small events, the Competitor's Admission fee is included in the event entry fees. A Competitor's Ticket will be available to download once Entries are paid and is required to scan in and out of the venue.
Spectator Admission Tickets are available for purchase and downloading online in advance via the event webpage in order to scan in and out of the venue:
Online - Via DSA Spectator Ticket System
$10 Child Under 16 years
$20 Adult 16 years + over
At Door
$15 Child Under 16 years
$25 Adult 16 years + over
Competitors need to look up their allocated competitor back number on the event page to ensure a speedy process before collecting their number(s) at the Numbers Table. A deposit is NOT required this time in order to comply with our Covid Safety Plan. Numbers MUST still be returned upon completion of events.
A food truck will be located outside the venue entry for coffees/teas, cold drinks and healthy refreshments/meals so we hope that you all take advantage of these facilities.
We would also ask that while in attendance, everyone follows NSW Covid Safe protocols at all times. Please do not attend if you are feeling unwell. The health and safety of our dancers and their families is of utmost importance to us.
Professionals interested in volunteering their adjudicating services should email dancemoveengage@gmail.com and we will aim to allocate a minimum of 2 sessions accordingly.
We look forward to seeing you all on the 4th December 2022!
Kind regards,
Dance Move Engage Directors
www.dancemoveengage.org