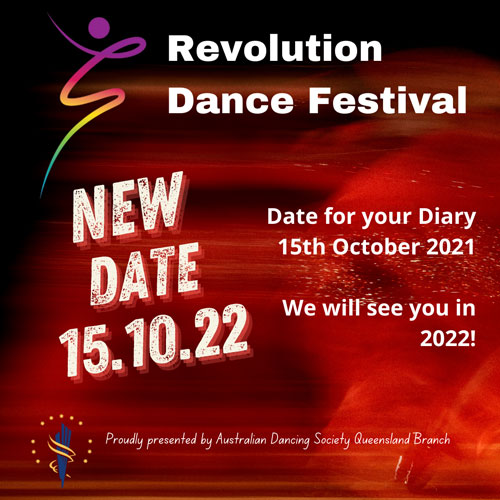 2021 ADS Revolution Dance Festival - Cancellation
Message from ADS Queensland Branch - Revolution Dance Festival Cancellation...
It is with regret, that due to current restrictions and the uncertainty at this time, we feel that it is in the best interest of Queensland Dancers, that we cancel the event for this year, and reschedule it to 2022.
We would like to thank all of the competitors who took the time to enter, the professionals and studios who were supporting us, and advise that we will be organising refunds of your entry & spectator ticket payments within 7 days.
We already have a date and a location booked, and are sure we will be in a better position with a clearer path going forward, that will be best for dancing in Queensland.
Please place a 'Save the Date' in your diaries for 15th October 2022!!
Again, we thank you for your support, and look forward to seeing you next year.
Warmest regards,
Jody & Simon
Organising Committee Revolution Dance Festival
on behalf of the ADS QLD Branch
Ph: 0499 848 833 E: jody@rhythmdanceattitude.com.au
Ph: 0408 734 419 E: simon@baysideproperties.com.au